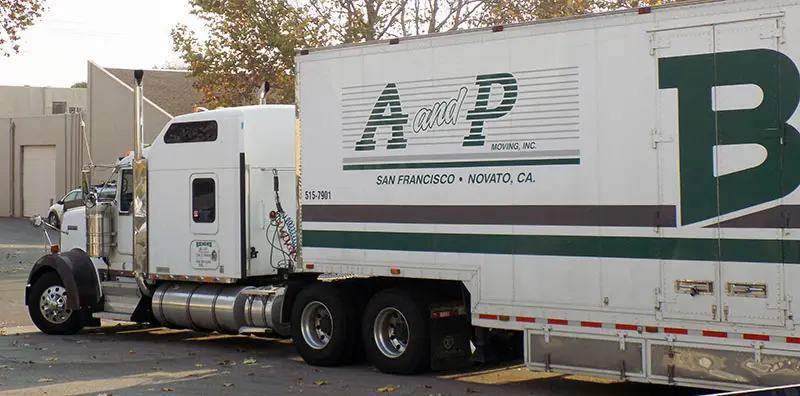 Dale Aman who had been in sales and management with The Bekins Company in San Francisco and Oakland since 1966, founded A and P Moving, Inc. in 1989 and established his own Novato Bekins agency in 1990.  A and P Moving, Inc. is owned by Dale, his son Darin Aman, and his daughter Darcy Aman Quinn.   Dale is retired, and Darin and Darcy run the day to day aspects of the company.
Starting out with one warehouse and 7 employees in 1990, A and P Moving, Inc. has grown to two warehouses totaling 45,000 square feet, 25 employees, and 3 over the road van line drivers.  A and P Moving, Inc. has become one of the area's best quality moving and storage companies through the numerous yearly Bekins Van Lines awards received:
Million Dollar Booker
Sales Growth Leader
Performance Excellence for Outstanding Sales Achievement
Top Achiever for Sales & Growth for National Account Sales
International Sales Excellence
Million Dollar Hauler
Driver of the Month
Driver of the Year
Hauling Excellence
25 Years of Service
Goal Getter
Agent of the Month
Agent of the Year
Spire Award – for providing excellent customer experiences
A and P Moving, Inc. has led the area in diversifying its services:
Started the first Document Storage company in Marin County in 1990.
Became the only Marin mover with warehouse space encompassing 45,000 square feet, thirty foot high ceiling, concrete and steel modern facilities.
Handled the entire Novato Community Hospital and Professional Doctor's relocation project to its brand new facilities in 2001.
Started a separate on-site mobile Document Shredding company in 2010.
Was one of the first moving companies to use technology driven materials in protecting IT equipment and sensitive floor areas for office moves in 2012.
Partnered with interior designers and manufacturing companies to develop a warehousing and distribution service in 2016.
Managed and maintained Employee Relocation National Account Corporate household contract relationships for numerous clients over the past 15 plus years.
The longevity of our account base supports the strength of our quality philosophy.
A and P Moving, Inc.'s philosophy is to provide value services at competitive pricing.  We believe in the thoroughness of pre-move evaluations, attention to detail, and a clear understanding the customers need to facilitate smooth relocations.  Our intention is to build lasting relationships of trust, respect, and value that result in successful relocations.
A and P Moving, Inc.'s ability to listen and understand the customer's needs, provide flexibility, and offer guidance on how to best logistically facilitate the relocation services are critical to a customer's satisfaction.  This is important when the relocation is more than just a simple pickup and delivery.  A and P Moving, Inc. works to operate on a flexible scale and is able to fluctuate to the customer's needs.