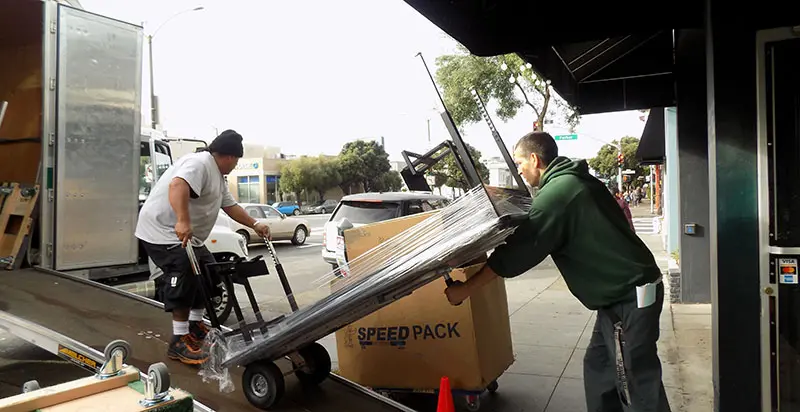 A and P Moving offers industrial services within the Marin, Sonoma, and San Francisco Bay areas.
We have the ability to facilitate an industrial  move according to plan and within the budget. A and P Moving range of moving services includes general office furniture, libraries and file rooms, computer equipment, data centers, and college campuses. After hours and weekend moving is also available.
Our experienced industrial move project managers work to ensure your company is prepared to relocate.
Planning assistance with the coding of floor plans, specific colored marking systems for the accurate placement of inventory, detailed employee moving instruction sheets, and coordination with building personnel at origin and destination, are all aspects that lay the groundwork for a smooth move.
Trained personnel who know how to handle computer systems, disassemble and reassemble office furniture, properly move file cabinets, and other services to enable your office move to flow smoothly. Our foremen have an average of over 10 years experience in the moving industry. A and P Moving has a 100% employee base, each of whom is in uniform and professionally trained.
Unlike many moving companies, we do not employ independent contractors or hire casual labor or workers who are unknown to our company. We conduct background checks on each of our employees before they are hired. There's no way to ensure quality if you have no control over your employees.
A and P Moving equipment resources consist of rolling carts and bins for computer and electronic equipment, large file systems, artwork, and other bulky items. Supply of specialized moving cartons that do not require tape, but fold automatically in place, allow for efficient use of packing resources. Post-move services of re-arranging, unpacking, and debris removal is available in helping fine-tune your new work environment.
We take pride in protecting your building. Floor protection consisting of masonite, not cardboard or plywood, as well as corner and wall guards, are used to protect all major access ways.
We are professional, reliable, and skilled at office and industrial relocations. We look forward to the opportunity to serve your office and industrial moving needs.
If you are looking to move in the near future, contact us today using the form on this page or giving us a call. We'll provide you any initial answers to questions, and then, schedule a time to review your unique requirements. We look forward to hearing from you.