Moving Out of State or Across The Country?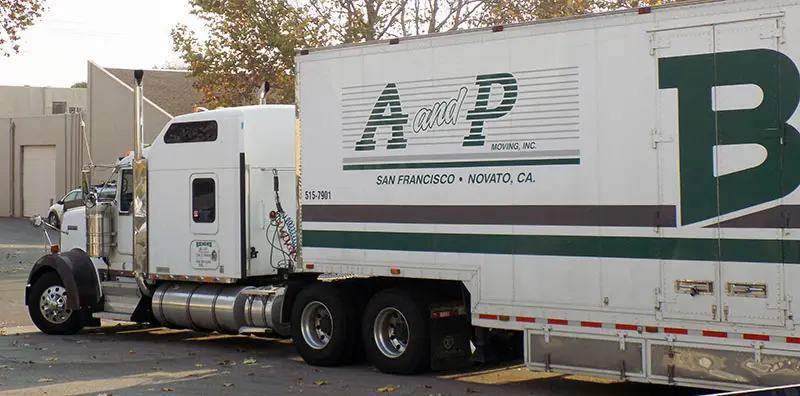 As an agent for Bekins Van Lines, A and P Moving can help you plan, coordinate, and facilitate your long distance move anywhere nationwide within the United States from the Marin, Sonoma or San Francisco California North Bay Area.
A and P Moving has top quality corporate inter-state drivers providing long distance relocation services with Bekins Van Lines. Several of our drivers are among the best in the industry, perennially winning the national status of "Driver of the Month" and "Driver of the Year" awards. All A and P Moving drivers go through background checks prior to being employed and are randomly drug tested throughout the year.
Protected For The Long Journey
Long distance moves are performed using soft moving padded blankets to protect your furniture. All fabric furniture is stretch wrapped for its protection. Property protection may include floor and wall coverings if necessary. An itemized inventory documenting all furniture, cartons, and other pieces being moved will be written up by the driver. Colored numerical stickers will be placed on each item, which number corresponds to the itemized inventory sheets, and provides a "piece count" accountability for what you are moving.
At the time of delivery, you will need to check each item off the inventory sheet and verify it has arrived safely. If there is any damage at the time of delivery, it must be noted on the inventory sheets at the time of delivery.
Customized services we provide include extensive crating for sensitive and high-value antiques, high value "valuation coverage" requests, multiple pickups or deliveries, local moves from temporary residences to permanent residences, long-term storage, advance shipments of cars or temporary housing inventory, and relocation of unique one-of-a-kind inventory items. Some clients relocate to remote areas. A and P Moving and Bekins' ability to have thoroughly prepared drivers and moving crews is important in successfully relocating these types of moves.
A and P Moving has resources to assist with services not typically performed by moving companies. These include some specialized crating, appliances needing electrical or plumbing disconnect or reconnect services, grandfather clocks, pool tables, chandeliers or ceiling fans, waterbeds, swing sets, and other items above and beyond the scope of general moving services.
International Moving Services
A and P Moving and Bekins understand the amount of anxiety related to moving out of the country. As a result we tailor each move to meet the unique needs of every customer. Through our network of worldwide partners, we help to make your international move a smooth transition. Every shipment – whether by air, ground, or ocean – is carefully planned, managed and tracked from door to door. Each step in the relocation process is managed by our customer service teams, guaranteeing total control and providing comfort for your relocation experience. It takes experts at both ends of the move to ensure that everything goes as planned.
Our move coordinators can help guide you through the maze of questions and concerns during the moving process, which includes: information on the destination country, shipping regulations, customs regulations, necessary forms, and documentation requirements. All of this information can be sent to you prior to the move to help you get acclimated before the movers arrive.
Our experience and quality are accessible to you, helping to make moving internationally as easy as possible.
If you are planning a long distance move, a few states over, across the country, to Canada or Mexico or across the world from the Marin or Sonoma County area, we can help. Give us a call or fill in the form on this page so we can determine a competitive quote for your situation. We look forward to hearing from you.
---
Click here to view the PDF Document, "Ready to Move?"
Click here to view the PDF document, "Your Rights and Responsibilities When You Move."