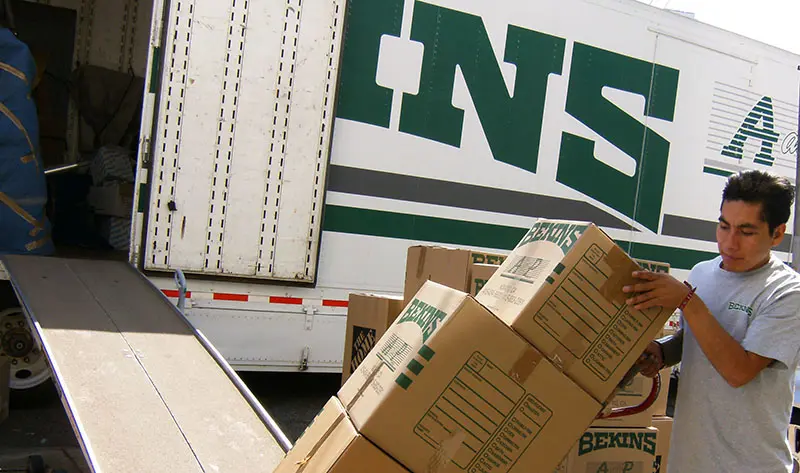 Bekins can assist you with your upcoming move by taking care of all the details. There is so much to plan and organize. Rely on Bekins to assist you every step of the way.
The key to a successful move is planning. Planning and organizing your move will help you alleviate the stress of moving, and avoid any surprises. The relocation process takes anywhere from 90-120 days. During this time, you will need to plan and organize your move. The more organized you are, the less stressed you will be. When using a professional mover, be aware that the summer months are the busiest, so be sure to contact your Bekins agent 30 to 45 days prior to your preferred move dates so that you are not disappointed.
Moving with Children
A move can be especially trying for children. Here are some tips to ease their concerns:
Get them involved – This will help alleviate some of their stress about moving to a new place.
Let them pack their own special box of their items
Discuss their fears and concerns
Be sure that they are not there on loading day, as they may become upset that their things are going on the truck. We suggest that they spend the day with family or friends to minimize their anxiety about the move. Proper planning will assist your children in the transition to your new home and community.
Moving your Pets
Pets cannot be moved on the moving truck. Be sure that they are not around on moving day as they might get in the way. Also, arrange for the transport of your pet well in advance. You might want to visit your veterinarian to get your pet's health records and update tags, and to obtain tranquilizers to calm your pet during transport.
Moving Plants
Plants should not be moved. We cannot be responsible for the care of plants, and many states quarantine plants at all times. We recommend that they move with you, and not on the Bekins truck.
When you pack your items, consider the floor plan of your new home, so that you organize your items based on the rooms that they will be placed in upon delivery. This will make the unpacking process more efficient.
During your move, It is important to use the correct packing materials needed to protect your possessions. This will alleviate any damage during transit. Bekins recommends using various size cartons for specific items.
Book cartons (1.5 cu. Ft.) are small, easy to handle cartons designed for heavy items like books, CD's, and DVD's. Be sure not to overload the carton, as it may become too heavy for handling. Be sure to individually wrap any very old or valuable books.
Medium cartons (3 cu. ft.) have a wide range of uses for smaller items throughout your home. This size box is ideal for small appliances, tools, non-perishable food or clothing. Packing similar items together will make unpacking easier.
Large cartons (4.5 cu. ft. to 6.5 cu. ft.) are very useful for packing lightweight, bulky items such as pillows, linens, and large toys.
Dishpacks are especially sturdy cartons for fragile items such as china, glassware, figurines and sculptures. These cartons are reinforced with cellular inserts to further protect items such as crystal stemware. Each carton should be labeled, "Fragile-This End Up" to avoid damage.
Upright Cartons are used for lamps, statues and other items that require a special size.
Wardrobe Boxes are "portable" closets used to move your clothing from your closet. Clothing remains on hangers so that they stay wrinkle-free and clean.
Mirror/Picture Cartons are specially designed telescoping cartons that fit mirrors, pictures and glass tabletops exactly. Each carton has heavy corrugated braces that reinforce each corner.
Mattress Cartons are available from crib to king mattress sizes and they will protect mattresses and box springs from dirt and tearing and help to provide structural support to avoid bending.
Packing Paper should be unprinted and used for wrapping and padding.
Please be aware that your electronic equipment may require special preparation. Be sure to detach all cords and wires and keep them in a labeled bag so that you know where they belong. When moving computers, scanners or printers, be sure to detach cords and wires, paper trays, etc, and label all cables and wires for easy re-assembly. Be sure to use well padded, sturdy cartons to cushion the equipment. Mark these items, "fragile". Large screen televisions will require extra padding and protections. If possible, pack it in its original carton. If these cartons are not available, consider crating the item prior to moving day.
Moving Checklist
8-12 Weeks Before You Move:
If you own your home, contact your real estate agent to begin the selling process.
Establish your preferred moving dates.
Research your new community by using Bekins on-line moving tools.

Compare school districts
Obtain free city reports
Use our salary and mortgage calculators to compare

Set up a house-hunting trip to your new city.
Find out if your employer will be paying for the move, or will be providing you with a lump sum or a direct reimbursement. If so, discuss Bekins enCompass program.
Have a garage sale or donate goods you do not want to move. This will help you save costs on the move.
4-8 Weeks Before You Move:
Contact your local Bekins agent to schedule a convenient time for a free estimate.
Purchase your new home; arrange financing; establish close dates.
Make a list of everyone you need to notify of your move.
Obtain change of address cards from your local post office.
Check with your school on transferring your children's school records.
Research driver's license requirements for the state you are moving to.
Find out from the IRS or your accountant if moving expenses are tax deductible.
Contact your insurance agent to discuss your insurance needs for your new home.
Select a new bank in your new city.
Begin to organize your medical and dental records.
3 Weeks Before You Move:
Make a decision on whether you will pack your own cartons or if you'd like to utilize Bekins professional packing service.
Begin the packing process if you are doing it yourself.
Compile all personal records.
Change your address on credit cards, magazine subscriptions.
If you have children, arrange for them to be at a babysitter during loading day.
Arrange to have your utilities disconnected after your move-out day.
Arrange to connect your utilities the day before your scheduled move-in day.
2 Weeks Before You Move:
Plan to use all the food in your refrigerator and freezer.
Clean your home and clear basement and attics.
Cancel all current delivery services such as newspapers.
Dispose of all flammables, cleaners, paints, aerosols, ammunition, etc.
Transfer all current prescriptions to your new local pharmacy.
Clear out your safety deposit box. Transfer bank accounts.
Be sure that you have packed everything in advance.
Drain the oil and gasoline from your lawn mower, and other power tools if they are to be moved.
One Week Before You Move:
Confirm your travel arrangements for your family.
Provide contact phone numbers for your Bekins agent so that you are accessible during your move.
Empty and clean your refrigerator and freezer, clean your stove, etc.
Only use those household items that you'll need, such as sheets, towels, a few pans and dishes. Make sure everything else is ready to be moved.
Loading and Moving Day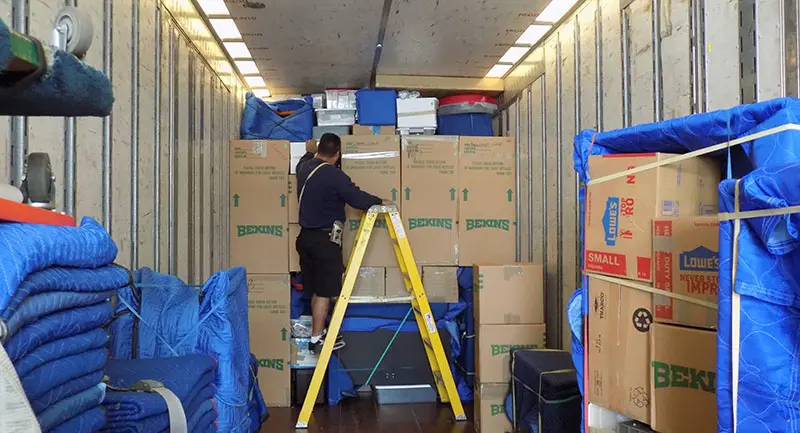 Your household goods are packed and ready to be loaded. The day before moving day, you will be called by our operations team to confirm move times and discuss any last minute details.
It is your responsibility to be there on moving day. If you cannot be there, you must designate a person to be present on moving day. Be assured that your household goods will be loaded and transported by professionally trained service providers experienced in proper loading techniques to minimize damage in transit.
Bekins knows how important it is to protect your home, so we use runners and special padding throughout the house to avoid any damage to carpeting, flooring, doorways and molding during the move-out. We will also use stretch wrap or padding to protect upholstered furniture or any other furniture that can cause damage to other items.
Your Bekins driver will prepare an inventory of items to be moved, and each item is noted for its' physical condition. Please be sure that each item is listed and that the condition of each item is accurately indicated. Each item to be moved will be labeled with an inventory sticker and numbered so that it's matched on the inventory sheet. Both you and the driver will sign the inventory to finalize the items being loaded and moved.
Our loading team will load your goods onto the moving truck using strapping if necessary. Once the van is loaded, you will be asked to sign your Bill of Lading (shipping contract) to confirm agreed upon services, schedules, selected valuation coverage and to authorize the transport of your household goods being moved.
Review all paperwork with your Bekins driver.
Be available to check off inventory of all items moving.
Once moving van is loaded, double check that nothing was left behind in closets, basement, attic, cabinets, drawers, etc.
Delivery Day
It is your responsibility to be present on delivery day. Be sure to have your payment ready, as payment is required upon delivery, unless other billing arrangements were made in advance. Accepted method of payments include cash, cashier's check, traveler's check, credit card (with prior approval) or money order. Be aware that personal checks cannot be accepted.
As the driver unloads each item, carefully inspect each item for damage and check it off the driver's original inventory form. If any item is damaged or missing, you must identify the missing items and/or note the damage on the driver's inventory. This is required if a claim is filed and settlement is to be made. After unloading, you will be asked to sign the inventory form. Before you sign, be sure that you accompany the driver for one last inspection of your shipment and your residence. Your signature indicates that you have received your articles in the same condition (unless noted) as when they were picked up by Bekins for transportation.