Bekins Vans Lines History

Families like yours have trusted the Bekins Family for generations. Founded by brothers John and Martin in 1891, Bekins began operations in Sioux City, Iowa, with only three horse-drawn vans and twelve employees. Since then, Bekins has grown into one of the nation's largest moving and storage companies with nearly 300 U.S. locations. Over the years we have expanded the scope of our services to include tradeshow services and high-value products, as well as international relocations.
The heritage of moving and storage leadership written by Bekins began in the horse and buggy days and has continued into the international Information Age. Whereas a strong back was the primary criterion for moving goods in the late 1800s, information technology and 24/7 visibility to shipments define today's moving and storage industry. Not only has Bekins changed with the times, but we have also led both the national and international industries with many important advancements.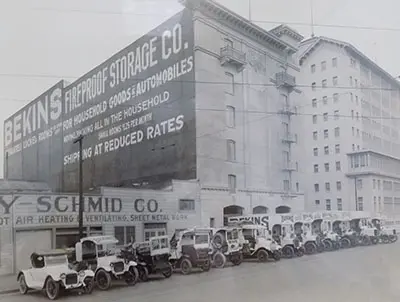 Bekins has led the way in moving and storage through innovation:
Bekins was the first to specialize in moving household goods
When covered moving vans were introduced, they carried the Bekins name
Bekins led the moving and storage business away from horse-drawn wagons with the first motor trucks-1903
The first concrete and steel warehouse was built by Bekins in 1906
The first transcontinental motor van move was completed by Bekins in 1928
Bekins was the first moving truck to cross the Bay Bridge in 1936
In 1960, The Bekins Company established Bekins Wide World, later known as Bekins International
Bekins becomes a leader in residential delivery services, later named HomeDirectUSA in 1994
Bekins lead an industry consortium to develop the CPM (Certified Professional Mover) program, a CD-Rom based training module in 1995
Bekins is the first van line to earn CPM status in 1996
Bekins is the first van line to install a nationwide warehouse and storage management system to assist in order management and tracking in 1997
Bekins opens a $4M driver training facility in Bolingbrook, IL in 1997
Bekins wins Industry Innovator Award for utilizing technology to make tracking shipments faster in 2000
We continue this innovation with our "No Excuse Price™" program. This is the industry's only true guaranteed price offering. Other types of estimates are available such as Actual Weight and Services and Not to Exceed Weight estimates. Our "For All It's Worth™" valuation protection was the first full value transit protection program offering pairs and sets coverage. At Bekins, providing our customers with the best value and service is our main goal.
Our history combined with our continued focus on meeting new challenges while meeting customer expectations have allowed Bekins the privilege of moving families across the globe for over 100 years.