Specialty Commercial Moves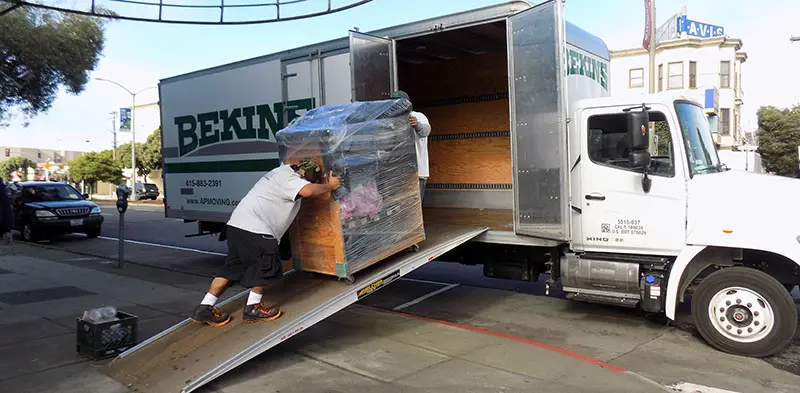 A and P Moving has provided a wide range of unique and challenging commercial moves throughout Marin and Sonoma Counties. Outlined below are some different types of moves we have been involved in. If you have a specialty move you need done, please contact us by phone or fill in the form on this page.
Library Movers
A quality library move and relocation is first accomplished in the planning stage. We work with you and your team to develop a strategy for success. We understand the accuracy and swift execution are the natural result of the practical plan. Everything is moved completely in order and placed one time at destination. You need not become a mover in the process, we handle the details.
File Room Movers
Relocating your files and business records is more than piling them into a box and loading them onto a truck. As the information support and legal evidence for your business activities, it's critical that your files remain accessible and secure throughout the moving process. Even more important is preserving the integrity of your filing system; —the last thing you want is files arranged in the wrong order at the new destination. Given the diverse nature and size of most records collections, all of this presents huge challenges. The solution is applying records management best practices to file relocation situations.
When you're faced with the critical and often overwhelming task of relocating your files, let A and P Moving help. Our experienced team of professionals will ensure that your file relocation process is done quickly and accurately, with minimal disruption to your business, whether you're relocating down the hall or across the country.

Hotel and Restaurant Movers
With its specialized furniture, fixtures, and electronics, as well as the complex distribution and delivery service requirements, hospitality moving requires a unique brand of expertise. A and P Moving helps hotels, restaurants, and other hospitality businesses make a move, with minimal disruption for staff and guests.
Our trained hospitality moving teams know how to transport hotel room furniture, fixtures and equipment (FF&E) or restaurant dishes, stemware. silverware, professional kitchen equipment, supplies, artwork, floor, and wall coverings, and more. Proven processes ensure efficiency and excellence at every step. We:
Cross-check inventory with purchase orders
Manage inventory with warehouse management tools
Install furniture to design specifications
Transport electronics, televisions, and computers, and arranging to recycle as needed
Remove debris as soon as possible
Healthcare Movers
A and P Moving has moved a large number of healthcare facilities including medical institutions, doctors' offices, and labs. Our expertise in managing large-scale projects assures our clients the confidence that each and every job will be done on time and within the move budgeting time allowed. We sweat the details, so the customers never have to. We use a variety of types of building protection because we are fanatical about protecting your facility. We work with all your vendors, facilities personnel, and hospital administration to construct a plan that minimizes downtime!
Coordinating a hospital move involving millions of dollars worth of equipment, thousands of staff members and hundreds of patients involves extensive planning.   To plan a move of this scale, flexibility is key and multiple contingency plans are a must.  Many unforeseen instances will present themselves during the move.
No elevator? No problem.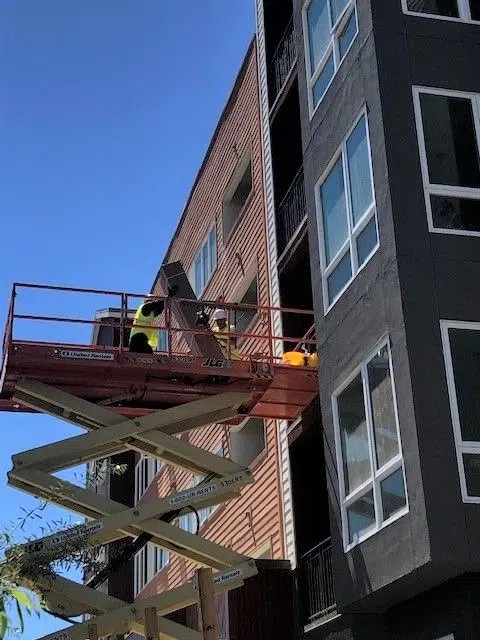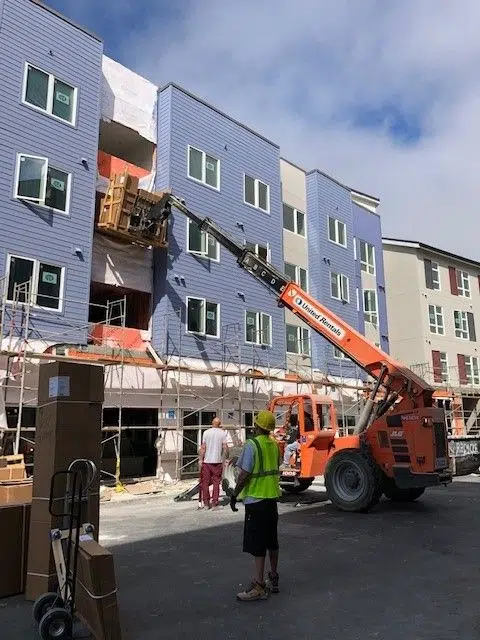 Above: A and P Moving crew helping deliver cabinets to new construction site at North River Apartments in Petaluma.
What's Your Special Move Requirement?
We've seen just about every type of move possible. As a result, if your move is full of unique requirements and special considerations, we can help.
Tell us more about your move by giving us a call or filling in the form on this page. We look forward to talking to you to show you how we are your best moving company in the Marin and Sonoma County.