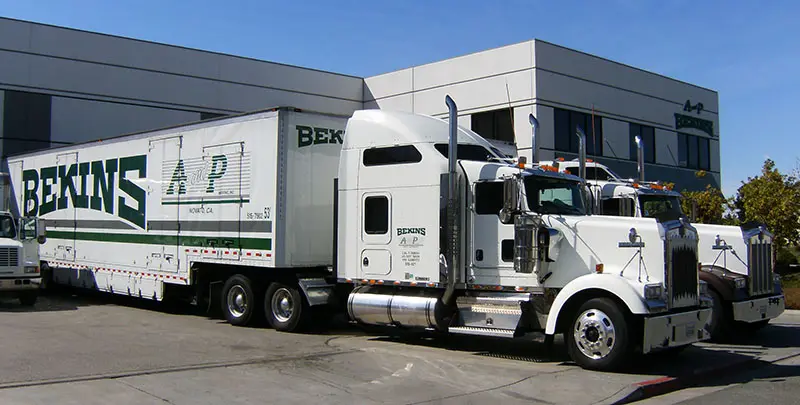 A and P Moving, Inc. has built its reputation on great customer service and as a result, its walls are full of awards reflecting our high-quality standards. Since it opened in 1990, this family owned and operated business has continued to grow into a multi-million dollar company which ranks as the second largest in the Bekins Corporation and the largest moving and storage company in Marin County.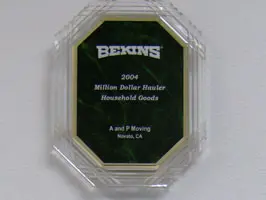 A and P Moving, Inc. is very proud of receiving top honors as the highest scoring agent in the Bekins Performance for Excellence program. Achieving quality performance takes teamwork. Sales, administrative and operational staffs, packing crews and drivers must be dedicated to the common goal of customer satisfaction.
Since its inception, A and P Moving, Inc.-Bekins has been awarded several achievement awards:
Diamond Certified (Marin and Sonoma Counties)
National Revenue Growth Leader in its business market
"Best Moving Company" in Marin County
National Highest Quality Origin Agent for Bekins Van Lines
National Low Claims Performance
Top Bekins Performance for Excellence Agent
The Aman family attributes much of its success to great customer service, although there is no doubt much of their success has come from hard work and dedication. Darin Aman serves as the President for the operations end of the business. He also manages A and P Shredding and Records Management. Darcy Quinn manages national corporate accounts.
A and P Moving, Inc.'s goal is to treat each customer with the highest quality standards in the industry. We strive to provide quality services at competitive pricing. We employ ethical customer oriented people with attention to detail who follow through. A and P Moving, Inc. employees undergo safety training classes, wear professional uniforms, and are drug tested randomly. 80% of A and P employees have been with the company 15 or more years.
A and P Moving, Inc. serves as an agent for Bekins Van Lines and is one of 350 agents in the United States. A and P Moving, Inc. services the Bay Area for any type of moving and storage need. It can handle local, long distance, and international moving and storage services.
A and P Moving, Inc.-Bekins is proud to be the longest servicing mover for the National Association for Law Placement (since 1986) and Levi Strauss & Co. (since 1973). These relationships date back to when Dale Aman was in sales with Bekins Moving and Storage, prior to purchasing his own agency A and P Moving, Inc. The accounts transitioned with him to his new company A and P Moving, Inc. in 1990. Darcy Quinn now manages both accounts. A and P Moving, Inc. is a member of the California Moving and Storage Association, the Novato Chamber of Commerce, Novato Rotary, and Marin Association of Realtors.
Hear more from a happy, long-time client. 
I have used A & P Bekins in Novato, Ca for 20 plus years. They are the absolute best. They have treated me so well over the years. This time it was across the Country. The drivers Brad and Mike(?) went by far above and beyond for me. I got to MA after my shipment was delivered. They called me this past Saturday and was coming back this way and offered to pick up my empty boxes. They arrived at 9 pm, after a long day of work and still had 3 more hours to drive to get to their destination for the night which was New Jersey. What moving company would go out of their way like that? None in my opinion. It helped me tremendously. I was so touched that they did that. It made me feel like my business mattered and they truly cared about me. As a former employee of Nordstrom, I understand the importance of outstanding customer service. My drivers provided such outstanding customer service; far more superior than anything I provided at Nordstrom.